How do we gather and review data for Navigator?

Level of Fishing Protection
ProtectedSeas assigns a Level of Fishing Protection (LFP) score to each area coded on a 1-5 scale, with higher scores indicating more restrictions and more protection. When clicking on any single point of the ocean, Navigator displays the maximum LFP score of all the areas at that point.
How LFP scores are assigned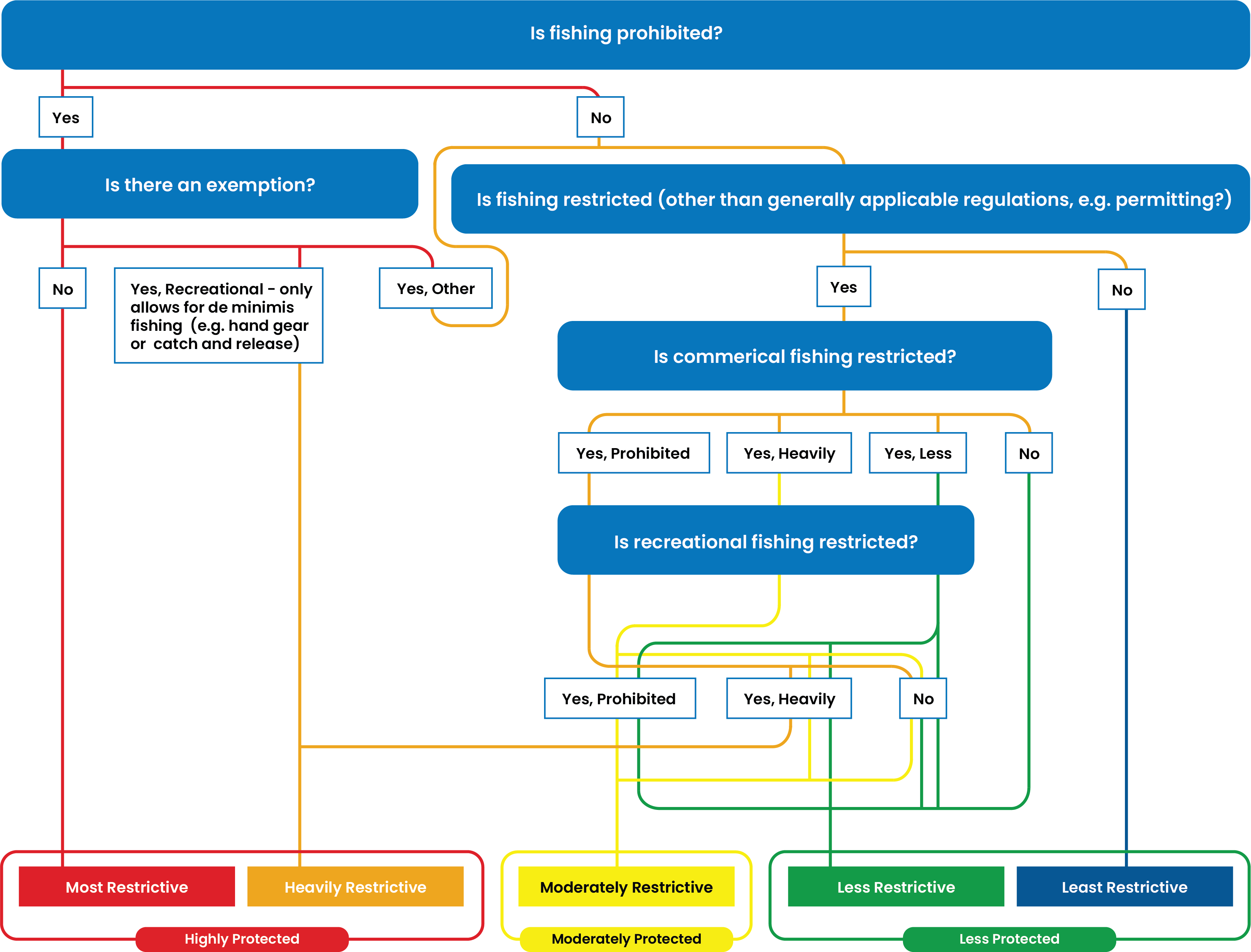 How Does Navigator Estimate Progress Towards 30×30 By Country?
Researchers have projected that a million plants and animals are at risk of extinction, many within decades. The last extinction event of that magnitude was the one that killed off the dinosaurs 65 million years ago. On Dec. 19th 2022 at the UN Biodiversity conference in Montreal, 190 countries signed up to the goal of designating 30% of Earth's land and ocean area as protected areas by 2030.*
ProtectedSeas estimates the share of oceans that are "Highly Protected" from marine life extraction from a legal standpoint by calculating the percentage of any ocean area scored as Heavily and Most restrictive on our LFP scale above. 
We calculate "Highly Protected" in a region by first calculating the marine area covered by each LFP protection level present in that region. The highest LFP level found across any overlapping individual protected areas is used as the overall status for the overlapping area.

Next, we divide the marine area for each LFP level by the total country's exclusive economic zone (EEZ) area as claimed by that country and as recorded in the Flanders Institute Marine Regions database.

Then, we add the percentage of Heavily Restrictive and Most Restrictive LFP levels together to estimate "Highly Protected" areas from a legal standpoint.
i.e. Highly Protected Legally = Heavily Restricted + Most Restricted
Explore in-place marine protections for over 110 countries and territories.
Navigator is the most comprehensive database of marine life protections and their boundaries available. Navigator is 100% free and it's open to the public. Users can explore Navigator's interactive map of regulatory information for marine protected areas (MPAs) and marine managed areas (MMAs).