Welcome to the ProtectedSeas Navigator!
To maintain long-term ocean health, we need marine managed areas to ensure that special places and life forms survive for future generations. This interactive mapping application provides detailed restrictions on marine life removal and fishing for over 21,000 managed saltwater and coastal areas worldwide.

The shapes show the restriction area. The greater the number of overlapping areas, the darker the blue. The most protected no take and no entry areas are marked in red. Click anywhere on the map to see the areas and restrictions at that point.
Search for a marine managed area or country by name using the Search Box.
Browse marine protections by country or by marine area by clicking on the "COUNTRIES" or "AREAS" tabs in the sidebar beside the map, then click anywhere in the map.
When the COUNTRIES tab is selected, you can click on a place on the map to view the country that area resides in, protection statistics summaries, and access country-level reports from the sidebar.
When the AREAS tab is selected, you can click on the map to see all of the marine managed areas that intersect that location, as well as the country or region that location resides in, key summarized protections statistics about each, and view country and managed area detailed reports from the sidebar.
Special areas of the ocean needing protection are highlighted in purple. These areas are provided by Mission Blue (Hope Spots) and others. You can toggle these overlays in the Layers menu and compare them to established MPAs and other marine managed areas on the map.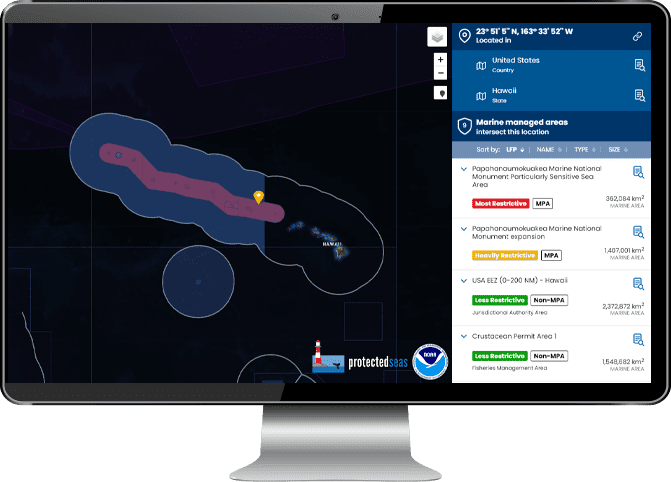 Data Use and Crediting Navigator
We offer this compilation of data freely, and encourage wide usage. However, it has taken many years, and intense effort by staff to create this platform. As a scientific courtesy, when using the data, please give credit to ProtectedSeas.
For additional information or to inquire about partnerships contact us at [email protected]