About Navigator
Explore protections in over 220 Countries and Territories, including the High Seas.
Navigator is a free, interactive map of regulatory information for over 21,000 managed saltwater and coastal areas worldwide, including the high seas, to inform ocean management and conservation initiatives globally.
This global view of marine life protections is free to use so everyone — from fishers and boaters to policymakers and scientists — has the knowledge to ensure the waters that are important to them are adequately protected.
It contains legally implemented marine protected areas (MPAs) and other areas to promote conservation, such as water quality protection, fisheries management, and speed zones.
All types of areas are displayed together, highlighting overlapping measures which can be explored in detail at any point on the ocean
Navigator codes over 20 fishing gears and human activities and states whether these are prohibited, restricted, allowed, or unknown, and lists focal species where identified
The United Nations has set a goal for the world to designate 30% of Earth's land and ocean area as protected areas by 2030 (30×30). Navigator's Level of Fishing Protection score (LFP) can be used as one indicator in evaluating which areas might meet 30×30 criteria.
All of the above make ProtectedSeas Navigator the most comprehensive database of marine life protections and their boundaries.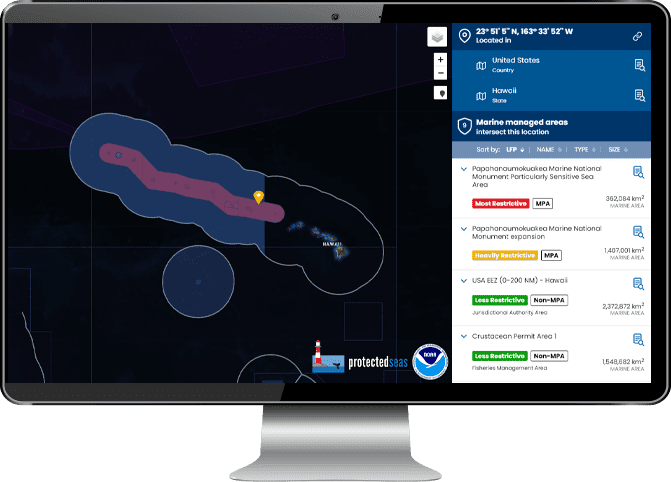 We include only legally implemented areas with verified regulations and defined boundaries. Our primary focus is Marine Protected Areas but we also include other types of areas with conservation impact when possible including OECMs, fisheries management areas, marine mammal protection zones, etc.
Understanding existing regulations required lawyers and geographers to conduct many hours of research and mapping so that the precise area of restriction coverage could be understood to understand the actual state of protection for a given area.
ProtectedSeas Navigator has done this work for you: Our lawyers have summarized restrictions and our geographers collated digital boundaries into one database. Software, user interface, and marketing professionals designed the ProtectedSeas Navigator interactive map to visualize all of the marine life protections in the same format, in one location. As part of this process, our geographers created the first publicly available, digitized boundaries for over 9% of the protected areas in Navigator.
Navigator represents a large donation of over 42-person years of labor to create this for the world. Now, you can accelerate your assessments of marine life protections and compare different geographic regions.
Learn more about how we compiled restrictions and created area maps through our Methodology.
Although Navigator is the most comprehensive, it is not complete. There is still information needed:
Seasonal fishing restrictions without boundaries. Many countries and localities have dynamic fishing restrictions that change based on conditions
Fisheries Management Areas outside of North America.  The team is working to add fisheries management areas for all global countries but it is a monumental task. To determine if these areas are available for a given country, check the country release notes in the Country report page.
It took us eight years to complete the globe. We would like to refresh the data at least annually but we need regional and local experts to help keep everything up-to-date
Be a global hero.Providing information for your country or a place you love, would make the picture of global marine life protections more comprehensive, and help you understand how your country measures up. Fisheries management areas, if taken into account, could show that certain points of the ocean are more protected than they appear.   We will give you credit for your assistance in our data sources area.
Contact us to submit new information or corrections.
Thank you in advance for contributing to a global resource!
The data can assist the international ocean conservation community.

Analysis of legal protections relative to species, habitats, and other factors to identify potential gaps and inform new protections

When combined with vessel monitoring tools,
the data can indicate where illegal fishing may be occurring in
real-time

An indicator of progress towards protecting 30% of the global ocean by 2030 and other types of assessment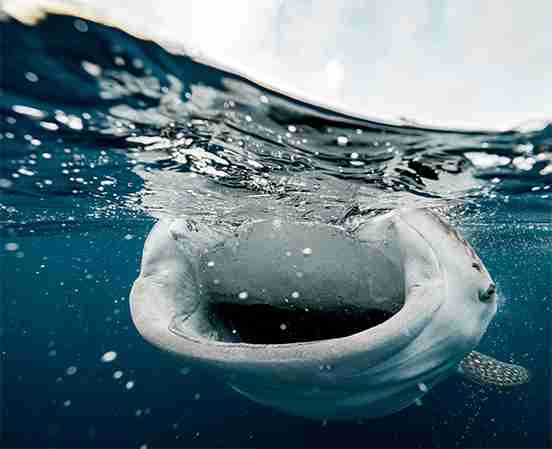 25,000+ MPAs and other managed areas (MMAs)
ProtectedSeas uses a standardized process to collect, synthesize, and map MPAs and other MMAs.

How Navigator assesses Level of Protection
ProtectedSeas assigns a Level of Fishing Protection (LFP) score to each area, coded on a 1-5 scale, based on an analysis of restrictions on marine life extraction.
What types of Fishing and Activities Does Navigator Assess?
For each area, data from legal texts and management plans are reviewed, summarized, and used to inform restriction-related attributes. Review is focused on marine-related activities, which also informs the restriction status.
ProtectedSeas does not contain seasonal fishing restrictions that are not area-based, e.g., seasonal fishing restrictions that apply to an entire EEZ. ProtectedSeas is beginning to include fisheries management areas within EEZs, for a few select areas.

Boundaries are approximate. Because GIS projection and topology functions can change or generalize coordinates, the spatial boundaries depicted are considered to be approximate representations and are not an official record for the exact regulated area boundaries.
Not intended for enforcement purposes. Navigator is a guide and for informational purposes only, as site boundaries and restrictions may not be up-to-date.
Regulations are summarized. The information on restricted activities is a distilled summary and does not represent the complete official regulations as cited in the legislative code. Users must refer to the official legislative code (link provided) for the complete official description of regulations and restrictions.
Multiple restrictions may apply at once. Areas and their related restrictions are not listed in a hierarchical order based on level of restrictions. In areas where there are discrepancies among regulations across varying jurisdictions, it should be assumed that the most restrictive regulations apply.
Only marine (saltwater/coastal) areas are included. Boundaries and regulations for Inland managed areas are not included in Navigator.
Conservation Focus. Areas managed for extraction of natural living resources like fishing and take are the focus of Navigator. Military closures, vessel traffic areas and areas managed mainly for recreational and industrial uses may not be included unless they also manage extraction in some form.
Sign up to receive news and updates and get early access to data releases and new features.
To support ocean conservation globally, we work with universities, marine conservation, and governmental organizations in the US and abroad to drive innovation, awareness and support for information solutions for marine conservation and protection. Because if you don't have the information you need, how can you support the oceans upon which all life depends?
Contact us to learn more about our work, request a demonstration or to discuss partnership opportunities.